"It's time..." -- Leonard Nimoy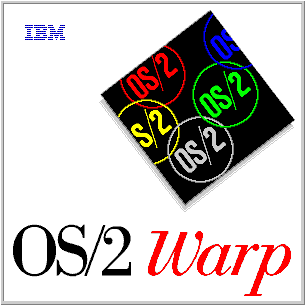 On October 11, 1994, IBM announced its boldest entry into the burgeoning home and small office software market, OS/2 Warp Version 3. Widespread on-the-shelf availability of OS/2 Warp occurred on November 4th in the United States.
OS/2 Warp is the latest in a line of releases which have achieved broad acceptance in corporations around the world (and in many other segments of the software market). Over eight million people use OS/2 today, and that number just keeps growing. However, previous releases were criticized for being difficult to install, short on the list of included device drivers, consuming too much memory, an "industrial" appearance rather than a flashy one, and having bundled applications which were not appealing. In short, it was criticized for not appealing strongly enough to home and small business users, many of whom are struggling with an aging 16-bit Windows environment and who are craving for something better.
Nonetheless, OS/2 has always been praised for its reliability, superior compatibility with existing DOS and Windows applications, true preemptive multitasking systemwide, and a state-of-the-art 32-bit programming environment for friendlier and more powerful applications. Features which have made it the most popular 32-bit software in the world and which have earned it over 50 major awards, including PC Magazine's Editor's Choice and Infoworld's Product of the Year.
IBM has, quite simply, "consumerized" OS/2 in creating OS/2 Warp. OS/2 Warp is the fastest, friendliest, and most powerful version of OS/2 yet. And, in concentrating on improving OS/2 in areas which matter most to home and small business users, IBM has ended up making OS/2 better for everyone, especially for current Windows users.
Here is but a sampling of the features and improvements you'll find in OS/2 Warp:
Lower memory requirements. OS/2 Warp really runs on a PC with as little as 4 MB of memory, and it races on a system with 8 MB. But no matter how much memory your PC has, OS/2 Warp now gives more memory to applications. That means speed, and that means you finish your work faster. And, naturally, since this is OS/2, memory management woes are a thing of the distant past. Get over 600K of free base memory in your DOS sessions, even after all your drivers are loaded. (Get over 700K free if your DOS application requires no more than CGA graphics!)
Enhanced Workplace Shell. OS/2's Workplace Shell has been praised for its ease-of-use for quite some time, but there are still major improvements to it in OS/2 Warp. A new LaunchPad lets you drag and drop the programs, folders, and other objects you use most frequently to a quick-access button bar. The LaunchPad is fully customizable, and it's always ready when you need it. The Workplace Shell now has palette awareness (so background bitmaps always look their best), "Comet Cursor" so you won't lose track of your mouse pointer, customizable mouse pointers, Pickup and Drop menus (so you won't have to open, shift, and resize windows before you drag and drop), automatic closing of parent folders (if desired) and an Open Parent menu option, animated icons (so that folders actually pop open when you double click), backup and recovery of your desktop (so you never lose your setup), an Undo Arrange option (if you accidently rearrange your desktop when you didn't mean to), opaque background icon text (so they really stand out against a complex background bitmap), drag and drop setting of background bitmaps, and much more. And the default color scheme? Dull, boring gray is gone, replaced with a soothing teal background and much more colorful icons. Plus it's easier than ever to find objects, thanks to the much simplified Find window (just a single click away from the LaunchPad).
Performance improvements. With the addition of new 32-bit code, the Workplace Shell is now much speedier. Folders pop open and close in record time. Shutdown races for the finish. Printing benefits from a new 32-bit engine, so more complex images are processed more swiftly. And printing no longer requires that you dedicate a precious interrupt (IRQ 7) to the task, very convenient for AT bus systems. OS/2 Warp can handle the hard disk much faster, particularly when formatting and checking (CHKDSK) the disk, particularly with the High Performance File System (HPFS). OS/2 Warp starts up faster (and with many fewer, if any, distracting device driver messages). Most importantly, perhaps, the "industrial" OS/2 logo you saw in previous releases has been replaced with a sleek new OS/2 Warp logo (which you can even use as a background bitmap).
Installation. Installation has been a sore point for many first-time OS/2 users. The problem wasn't so much that their hardware devices weren't supported, it was that available device drivers were not included with OS/2. OS/2 Warp changes that, with generous built-in support for both older and newer video cards, CD-ROM drives (even non-SCSI models, including IDE drives), sound cards, TV tuner cards, video capture cards, mice, printers, PCMCIA, and SCSI cards. You won't have to go fishing for OS/2 device drivers nearly as often (if at all). Plus there's now a one-button "Easy Install" option. OS/2 Warp will automatically interrogate your PC to find out what hardware is installed then put in the correct device drivers. Without asking dozens of questions. Multimedia support is now part of the main installation -- no tacked-on procedure. Selective Uninstall lets you deselect and remove those features you thought you might want but really didn't need -- no more poking around your \OS2 directory, hoping you delete the right files.
BonusPak. Gone are most of the "applets" found in previous releases of OS/2 (although you may use them from your prior release of OS/2). Instead, IBM has spent a considerable amount of time collecting true 32-bit OS/2 applications which are both useful and which demonstrate the power of OS/2 Warp. About a dozen applications are included in the BonusPak, accompanied by a friendly installation program (which, if you have a sound card, will even play music). The BonusPak applications include:

System Information Tool. Do you remember how large your hard disk is? How many colors your video card is displaying with OS/2 Warp? How sensitive your mouse is? How much memory you have installed? Visit the System Information Tool to find out the answers to these questions and more. Part of the high-end IBM Netfinity for OS/2 hardware management product, it's now yours free of charge in OS/2 Warp. There's even a feature to list all the device drivers in your OS/2 Warp system, along with version dates.
Internet Connection. Certainly the highlight of the entire BonusPak, this set of applications (including Gopher, Ultimedia Mail, Telnet, ftp, and so on) gets you connected to the entire Internet using a dial-up SLIP connection. Registration on the IBM Global Network is a simple button click, and you don't have to memorize arcane commands or learn about IP addresses. You can also use your own Internet provider if you do not wish to use IBM's. However, you get three free hours of connect time on the IBM Global Network with every copy of OS/2 Warp. Send and receive Internet mail (even mail with sound and video attachments), explore the World Wide Web with the IBM Web Explorer, browse weather maps and online library catalogs with Gopher, and even chat with other OS/2 Warp and Internet users in the Internet's newsgroups. And, only with OS/2 Warp, you don't have to wait while you are downloading a file or complex Web document -- go do something else. OS/2 Warp delivers real multitasking, so you never have to wait.
Person to Person. For desktop videoconferencing and collaboration on projects, or for a new way of communicating that's just plain fun, IBM's Person to Person is included with the BonusPak. Person to Person gives you a Chalkboard which lets you share bitmaps (including copies of spreadsheets, documents, and other windows on your desktop) with other Person to Person users across a network, by modem, or even over the Internet Connection. What you draw or put in your Chalkboard is immediately sent to all the other people in your Person to Person "conference call." You can also share the contents of your Clipboard and carry on a live conversation by keyboard. With appropriate hardware, you can also transmit live video. Save plane fare and work on projects with your friends and colleagues without actually being in the same room.
Compuserve Information Manager. Access Compuserve in grand style. There's even an icon for the OS/2 forums, so you can get speedy answers to your OS/2 Warp questions.
HyperAccess. Dial up BBSes, Dow Jones, MCI Mail, BIX, GEnie, and many other online services with this richly featured communications software. It even includes dialing directories and ZModem. And, remember, downloading or uploading a file under OS/2 Warp doesn't mean you have to wait to do something else.
Faxworks. Send and receive faxes of unlimited length using the most popular fax software for OS/2, Faxworks. You can even send faxes from DOS and Windows applications. Simply print to a printer port (LPT3 by default) as if it were an IBM Proprinter X24E. Faxworks will automatically log all traffic so that you can review it at any time. It supports drag and drop faxing, and it is even integrated with the phone book in IBM Works.
IBM Works. Real word processing (with spell checking), database, charting, spreadsheet, address book, phone book, calendar, and other applications for getting essential work done, right out of the box, with OS/2 Warp. All these applications are tightly integrated, thanks to OS/2 Warp's System Object Model. Drag a spreadsheet into your word processing document and it's linked. No arcane menu options or contortions required. The IBM Works Event Monitor will even notify you when you have an appointment you need to keep and, thanks to OS/2 Warp's real multitasking, you won't miss that notification just because your computer is doing something else.
Multimedia Viewer. An application which gives your computer the ability to deal with "foreign" multimedia files, everything from Kodak Photo CD images to Sun .AU audio files from the Internet. There's even a Light Table (a new folder type which you can use anywhere in the Workplace Shell) which gives thumbnails of all your bitmaps and images to let you catalog and categorize your collection. If you are a photographer, or use desktop publishing, think of all the time you'll save.
Video IN. Formerly a $199 product by itself, IBM Ultimedia Video IN is included free of charge in the BonusPak. Winner of Byte Magazine's Best of Comdex award, Video IN lets you record software motion video files (AVI files) in either Ultimotion or Indeo formats. You can record in real time or from still images (images which come either from sets of bitmaps or from a computer controlled laserdisc player). Many popular video capture cards are supported for recording from external video sources. However, you don't need a video capture card to use Video IN. You can construct an animated weather sequence (like the ones you see on television) from weather images you download from the Internet, for example.

DOS and Windows capabilities. With the new Windows FastLoad option, you can preload all of the Windows environment under OS/2 Warp when you boot, so that Windows applications that you start from the Workplace Shell pop up in no time flat. And OS/2 Warp supports those very few applications which require Win32s (such as MathCAD). For DOS and Windows programs, OS/2 adds better virtual DMA handling, which means applications such as games will run smoother and faster. And creating a program object for a DOS or Windows application will automatically pull in the correct settings from OS/2's database -- it's no longer a separate procedure. IBM even includes settings for over 250 of the most popular DOS, Windows, and OS/2 games.
System recovery options. What did you do if OS/2 couldn't boot? You may have had to reinstall in the past. No longer. Now OS/2 Warp comes with several great features to let you figure out what went wrong (and, more importantly, to prevent something from going wrong in the first place). A small OS/2 character mode text editor is now included on your OS/2 Warp boot diskettes, so you can change critical files without the Workplace Shell, if need be. You can now make a set of utility diskettes (for emergencies) using a program in the System Setup folder. A Maintenance Desktop is provided alongside your regular desktop (and you can even use it while OS/2 Warp itself is installing). When you boot OS/2, you will now see a white box in the upper left hand corner followed by "OS/2." Hit ALT-F1, and a menu pops up with several options (such as immediately dropping to a command line, using archived desktops, etc). You can even choose to have this menu display at every bootup, with or without a timeout. Hit ALT-F2, and you see a list of every device driver load, as it loads, so if your system is stalling you can determine the exact problem. There are queue enhancements to prevent lockups. Hit CTRL-ESC if an application grabs control of the input queue, and you are back in charge much quicker. Plus you can now (optionally) enable type ahead, so that you can start typing before an application loads.
Multimedia enhancements. Beyond the features in the BonusPak (Video IN and the Multimedia Viewer), the base OS/2 multimedia features have been enhanced and improved. Support is built-in for compressed audio formats (including ADPCM) so that you can record and play back WAV files which take up far less disk space. MPEG video is supported with the Reel Magic card. You can display live video signals in a window on your OS/2 desktop with such cards as the Win/TV. Performance is much improved, and the amount of memory required for multimedia is lower. New system sounds and sound effects are provided. Additional multimedia files (including Kodak Photo CD images) are included on the CD-ROM version of OS/2 Warp. The DIVE (Direct Interface Video Extensions) API has been enhanced, to better support fast action games and animation under OS/2.
Miscellaneous. There are literally thousands of other improvements in OS/2 Warp. For example, the credits screen is now back. If you have installed the optional bitmaps, you can now find out who created OS/2 Warp by clicking once on the desktop background and pressing CTRL-ALT-SHIFT-O (i.e. hold down CTRL, ALT, and SHIFT, and tap the letter O key). Color palettes have been separated into Mixed Colors and Solid Colors, so you can pick colors that will look good even on a 16 color VGA system. Scheme palettes are larger and have more exciting selections. The Information folder contains quite a bit more detailed information and many more documents (while the plain text README file has rightly shrunk) on topics such as performance considerations and Windows programs in OS/2. The Tutorial is both artistic and useful, with a button for Windows users to learn equivalent functions, a Practice button (to let you practice new steps), and a Do It button (to let the Tutorial actually perform a task, such as opening the Games folder). The OS/2 Mahjongg game is included in the base installation. DOS programs such as the DOS Editor and MSD, and the Win-OS/2 Program Manager, are automatically placed as program objects in the appropriate folders. Adobe Type Manager can now be turned off for Windows programs (the default). A SESSION_PRIORITY setting allows for boosting the responsiveness of individual DOS or Windows programs. OS/2 Warp will install over (and use, for running Windows applications) Windows 3.1 and 3.11, and Windows for Workgroups 3.1 and 3.11.
The best news is that, aside from the much maligned applets in OS/2 2.x, nothing was taken away from OS/2 Warp. The most popular 32-bit operating system for the PC was simply made better for everyone.
What versions of OS/2 Warp are available?
OS/2 Warp will be available across the entire range of OS/2 products. OS/2 Warp Version 3 is the first. This product is an upgrade for DOS, Windows, and OS/2 for Windows users. It uses an existing copy of Windows or Windows for Workgroups on your PC's hard disk to provide compatibility with Windows applications. (If a copy of Windows is not available, OS/2 Warp Version 3 will still support DOS and OS/2 applications.)
Next, OS/2 Warp Version 3 with Win-OS/2, now available, is designed as an upgrade for "full pack" OS/2 users or for new PCs without DOS/Windows. It is identical to OS/2 Warp Version 3 except that it contains Windows code (to run Windows applications).
Other versions of OS/2 Warp (for SMP and networking) are also planned. If you purchase OS/2 Warp now, a discounted upgrade to the so-called network version of OS/2 Warp will be available. (The upgrade consists of a larger BonusPak; the base OS/2 Warp software does not fundamentally change.)
Can I upgrade from "full pack" OS/2 2.x to OS/2 Warp Version 3?
The short answer is no, that OS/2 Warp Version 3 with Win-OS/2 is a more convenient upgrade. However, if you are willing to reformat, you can purchase and install OS/2 Warp Version 3 to run DOS and OS/2 applications. If you install Windows before installing OS/2 Warp Version 3, you can also run Windows applications. IBM does not recommend such an upgrade without reformatting. Or, at the very least, you should completely remove all traces of OS/2 (with Win-OS/2) from a diskette boot. That means you should remove the following directories:

\Desktop
\Nowhere
\Delete
\OS2
\MMOS2
\PSFonts
\Spool

and the following files:

AUTOEXEC.BAT
CONFIG.SYS
OS2BOOT
OS2KRNL
OS2LDR
OS2LDR.MSG
OS2VER
README
WP ROOT. SF

Since I have to install Windows from DOS, how can I create an OS/2 Warp Version 3 system with 100% HPFS?
If you wish to run with no DOS (FAT) file systems (all HPFS), it is more convenient to use OS/2 Warp Version 3 with Win-OS/2, now available. However, it can still be accomplished with OS/2 Warp Version 3 (without Win-OS/2) by following these steps:
Create an empty FAT drive on any PC;
Boot DOS from diskette and escape to the command line;
Insert Windows Diskette 1 in Drive A and enter SETUP;
Install Windows (Custom install preferable);
Using a utility such as PKZIP, create a set of diskettes which contains the entire contents of the \WINDOWS directory just created;
Install OS/2 Warp Version 3, reformatting everything to HPFS in the process;
From a DOS command line, restore the contents of the \WINDOWS directory to the same drive (Drive C, for example) where it was originally installed and set these backup diskettes aside for future use (label them "Win-OS/2");
Run OS/2 Warp's Selective Install, pass by the first panel, and make sure that the checkbox next to Win-OS/2 is checked, then click on the Install button;
Insert original Windows diskettes when prompted;
Shutdown and reboot.
Alternatively, you can use a free utility called WSETUP, available from (3.2) Shareware and Freeware Sources, to install Windows 3.1 from within OS/2 Warp. Or you can use a new product, Partition Magic from PowerQuest, which can convert a DOS FAT hard disk into HPFS, on-the-fly, retaining all existing files in the process.
Does OS/2 Warp support Windows VxDs?
No. OS/2 Warp Version 3 does not support VxDs (or, more precisely, VxDs which compromise system integrity are not supported). Microsoft is actively discouraging use of VxDs (because applications which use them cannot run under NT and may not run under Windows95), and IBM recommends that you not invest in software which requires them. Most software vendors will probably be releasing updates of their products which do not use VxDs (or native OS/2 Warp versions of their applications).
Fortunately, the number of applications which require VxDs is very small, and, of those applications, most are related to networking (for which there are most often superior native OS/2 alternatives).
Will OS/2 Warp Version 3 get rid of my DOS and Windows when I install it?
Absolutely not. Like a good application would, OS/2 Warp Version 3 leaves your native environment untouched, so you can always return to it safely and conveniently. DOS/Windows is preserved using DualBoot by default. (Boot Manager is also available.) You can even use OS/2 Warp's OSDELETE command (from an OS/2 diskette boot) to remove OS/2 Warp should you wish to do so. Install OS/2 Warp Version 3 with confidence.
Can OS/2 Warp read my drives compressed with Stacker, DoubleSpace, DriveSpace, or SuperStor?
Not by itself. It will safely ignore such drives if they exist. If you would like to continue using compressed drives, then Stacker Version 4 for OS/2 is right for you. Stacker for OS/2 can not only read and write Stacker compressed drives, but it can also safely convert DoubleSpace, DriveSpace, and SuperStor compressed drives to the more popular Stacker format.
How do I get OS/2 Warp Version 3?
Walk into any software dealership and ask for it. It is readily and widely available to all software dealers, either directly from IBM or through distributors. The best price is available through your dealer, although you can order the product from IBM directly.
How much does OS/2 Warp Version 3 cost?
With all of OS/2 Warp's features, including the BonusPak, the U.S. single unit price is usually under $80 (list price is $129).
Discounted upgrades to OS/2 Warp Version 3 are available for the following users (U.S. terms):
OS/2 for Windows (purchased August 1, 1994, to December 31, 1994): $50 off (only with rebate coupon affixed to box).
All other OS/2 for Windows users: $25 off (only with in-store rebate coupon, if available).
OS/2 Warp Version 3 with Win-OS/2 has a list price of $199. A discounted upgrade to OS/2 Warp Version 3 with Win-OS/2 is available to all OS/2 2.1x "full pack" users and carries a list price of $129. Estimated street price on the upgrade is under $80.
Other discounts may apply for additional licenses, VALU agreements, etc. Pricing and availability may vary outside the United States, so consult your local OS/2 software dealer for details.
OS/2 Warp is available on what types of media?
OS/2 Warp Version 3 (and OS/2 Warp Version 3 with Win-OS/2) are available on 3.5 inch diskettes and CD-ROM (with 3.5 inch boot diskettes). OS/2 is no longer available on 5.25 inch diskettes. See (4.2) Installing OS/2 Warp from Drive B.
How much does it cost to use the IBM Global Network for the Internet Connection?
Rates vary by country, so no one answer will necessarily apply. The latest rate information for your country is displayed when you first register with the IBM Global Network using OS/2 Warp's Internet Connection. You are asked then to agree to the terms. Three hours of free access are provided with every copy of OS/2 Warp, and you will not incur any charges until you use more than three hours or fail to cancel your account within three months of registering.
In the United States, there are two primary rate plans: either $12.95 for 6 hours per month or $29.95 for 30 hours per month (with per hour charges for additional hours). Generally speaking, you will enjoy lower rates for accessing the Internet through the IBM Global Network if you do not live in a major city (where other Internet providers may be competing) or if you travel and need access from two or more locations. The IBM Global Network provides worldwide access with local dial-up numbers all over the world. Most other Internet providers only provide service within a specific metropolitan area. OS/2 Warp provides the capability to connect either with the IBM Global Network or an Internet provider of your choice, so you should feel free to shop for the most attractive rates for your situation. Most independent Internet providers will readily assist you in configuring OS/2 Warp to access their services, so do not hesitate to ask.
Can I use Warp's Internet Connection with IBM TCP/IP for OS/2?
Yes. This combination is now supported by IBM. Make sure that you install the latest Service Pak(s) for IBM TCP/IP for OS/2, however. Also, when the OS/2 Warp Internet Dialer is active, all TCP/IP traffic will be routed through your dial-up connection (and traffic through your network card will be suspended). When you close the Dialer, traffic will resume through your network card.
I can't wait for the so-called network version of OS/2 Warp. How do I get OS/2 Warp to use my network card to access the Internet?
Assuming your network card is connected into the Internet already (perhaps at a university), any of the following software packages will allow OS/2 Warp's Internet software to work over your network card:
IBM LAN Server 4 Requester (Client) for OS/2
IBM DCE Client Kit for OS/2
IBM AnyNet/2
IBM TCP/IP Version 2 for OS/2 Base Services Kit with latest Service Pak
The least expensive of these (under $50 typically) is the LAN Server 4 requester. However, it is not sold separately with diskettes. The diskettes for the requester are bundled with IBM LAN Server 4. If you know someone who has IBM LAN Server 4, you can legally obtain a copy of the requester from that person if you purchase a separate license card for the requester from IBM or any IBM software dealer.
The DCE Client is the second least expensive (under $65 typically) method, and diskettes are provided (not just the right to copy) when you purchase it.
Please note that when you are using OS/2 Warp's Internet Dialer, all traffic will be routed over the dial-up connection and any traffic over the network card will be suspended. If you close the Internet Dialer, traffic over your network card will resume. Also please be advised that IBM has not completed testing on OS/2 Warp's Internet Connection in combination with any product which provides TCP/IP for network cards except for IBM TCP/IP Version 2 with the latest Service Pak. Nonetheless, many OS/2 Warp users are using these suggested combinations of products with great success and little apparent difficulty. IBM expects to officially "bless" these suggested combinations in the near future.
Will all my current software work with OS/2 Warp?
With very few exceptions, yes. IBM has tested OS/2 Warp against huge numbers of applications and networking packages, including the Novell Netware Client Kit for OS/2, Communications Manager, IBM TCP/IP for OS/2, the LAN Server requester, and much more. Any specific application notes are contained in the Application Considerations online document, located in the Information folder in OS/2 Warp.
Related information:

(1.5)  High Performance File System (HPFS)
(3.2)  Shareware and Freeware Sources
(3.8)  Networking Products
(3.11) Internet Connection
(4.2)  Installing OS/2 Warp from Drive B
(4.4)  Starting OS/2 Warp from Diskette
(4.6)  Corrective Service Diskettes

---
Previous Section, Next Section, Table of Contents.